2000AD - Coming Home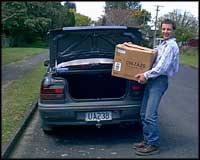 In 2000 I moved home to Te Awamutu. My partner Ange was also ready for a move from Hastings and she generously agreed to come with me. Excellent.
We established a branch of Wavelength Media and got part-time jobs to make the figures work. I joined the Waikato Trackside team and Ange worked for the Te Awamutu Information Centre.
Living in Te Awamutu
A lot of people couldn't understand why I would want to move from the city into a small rural town. I got heaps from my Palmy workmates and more heaps from old school friends. I guess when most people think of Te Awamutu and moving, the assumed direction is away.
I can see why they think like this. For many of us, growth as an adult includes moving from home. We expand our horizons geographically so we can increase the possibilities for personal achievements. Moving isn't necessary for everyone, but for many there are undeniable practical and personal reasons for doing so.
The thought of moving home to sleepy old TA might seem like a backward step if your life has unfolded well in other parts of the world. But if you're lucky enough that your happiness is not reliant upon your location then things can be seen a bit differently. The Internet is the reason we were able to make this move. Since we can be located anywhere with a fast connection, Te Awamutu is as practical as any place in the world.
Te Awamutu has everything I need. It has facilities, shopping, entertainment, etc. It also has a fantastic community spirit with a friendly and relaxed atmosphere.
With a few acceptable concessions I don't find my life any less convenient here than in a city. I fact I can honestly say it's far more convenient. Within a couple of minutes I can be in a cafe, a supermarket, a movie, or any other place I am likely to want to go. There will be no holdups on the way and plenty of parking when I get there. The prices will be reasonable and the drive home stress-free.
If I really need to get to Auckland it's only a couple of hours drive. Even if I did this once a week (which I sometimes do), then my total traveling time is significantly less than if I lived and worked in the city itself.
You should move to Te Awamutu. Go on, I dare you.