History of Me
This section contains various personal recollections and anecdotes. It's all completely true, at least to the best of my memory.
Unfortunately it's a bit meager, partly because I'm too lazy to write more stories and partly because so many of my stories would incriminate so many people that I can't really publish them. Anyway, here's a few short memoirs rated for family viewing...
---
In 1966 I was born in Oxford, England to an English mother and Kiwi father. Our family moved to New Zealand in 1969. We lived in Christchurch, Auckland, Te Awamutu, Wellington and then back to Te Awamutu where I spent most of my youth.
Bloody Teenagers
I did some cool stuff when I was a teenager but most of the time I was just a jerk. Sooner or later I'll publish all the miserable details.
College | I Wanna Be a Rock Star | The Public Bar
Nurse Owen
After leaving school in 1983 I trained as a psychiatric nurse. What an eye-opener.
1984 | 1985 (1986 to 1988 under construction)
Rock n Roll Dreams
I left my comfortable job as a Registered Nurse in 1988 to pursue a career as a Rock Star in a band called "The Plant People".
Almost Famous
Tayla
My daughter Tayla was born in 1991. She has her own website: www.tayla.co.nz
In Business
When the Plant People finally withered and died in 1992, Scratch and I started a business called "Wavelength Sound Company". This evolved into "Wavelength Media Limited" (www.wavelength.co.nz) and it's been going ever since.
Nurse Owen (Reprise)
Our first few years in business were slow, hard work and we had a miserable turnover. To supplement my income I returned to nursing and worked part-time in rest homes.
The Sad Job
Lights, Camera
In 1995 things started turning around for Wavelength Media and we found ourselves working in the television industry, landing contracts with TVNZ, TV3 and TAB Trackside. Television work is a lot of fun and one day I'll publish some observations about it. We also started getting into web design.
Y2K
I had been waiting for the Year 2000 as long as I could remember. This is what I thought of it and how I spent it.
My Y2K | 1999 | New Years Eve | The Tampa Tribune Story | The Future
Homecoming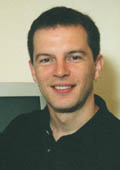 Me in 2001, still with hair. This picture was from a
story in the TA Courier
.
In 2000 I moved home to Te Awamutu and dragged my ever-tolerant new partner Ange with me. I worked part-time at Trackside while we developed a new business model building websites and stuff.
Living Back in Te Awamutu
The Race Cafe
From 2000 to 2005 Ange and me operated a website called The Race Cafe (www.racecafe.co.nz), a discussion forum for the racing industry. For a while it was ranked by hitwise.com as the busiest discussion forum in New Zealand, and we found ourselves with a bizarre type of cult celebrity status. I actually have several pages of notes about the experience that I wrote shortly after we sold the site, but I've never got round to making it presentable.
More Kids
We had two children, Jessica and Floyd.
Web Entrepreneur
Having learnt a great deal from The Race Cafe and other projects, I decided that being an "Internet Publisher" was the plan for me. This basically involves making web pages for websites that I own and letting them make me money. It's working fine thanks. You can learn more here.
Here and now (last updated 2012)
I'm living a pleasant life with my family, working almost exclusively on my own websites and other projects that take my fancy.