My Office

In partnership with Ange, I own and operate a business called Wavelength Media. We deal in all areas of audio-visual media production. See www.wavelength.co.nz for more information.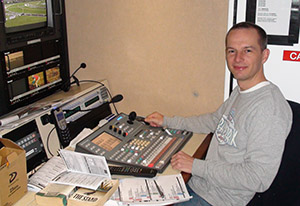 Television Production
I've been working in television production since 1995. Starting as a camera operator and editor, my first few years involved covering everything from weddings to national 6 o'clock news stories. I went on to train in all areas of live broadcast from Floor Manager to OB Director (that's what the photo is). These days I've scaled down my television involvement but I still do the odd freelance job.
Internet Work & Web Design
These days I'm lucky enough to spend most of my work time developing my own websites. These sites make money through advertising — it's a pretty sweet situation really.
My main website is www.mediacollege.com, a free resource site for video and audio production. This generates most of my income.
My next-favourite site is Te Awamutu Online, a community website for my home town.
Other projects I'm working on include:
You can follow developments on these projects in my blog.
Ange has also entered the game with a website about overbid refunds in the American tax sale system. It's called overbid.org.
---
Curriculum Vitae
My CV (July 2000)
Yes I know that you're supposed to keep your CV updated, but hey, I don't want a job.